THE SECRET TO OUR SUCCESS
In 1993 the concept of Arpeggio was conceived. We wanted our restaurant to be a casual and intimate BYOB with an interesting menu focusing on the wonderful flavors of the Mediterranean.
We visualized a happy neighborhood establishment with delicious food, ample portions (nobody leaves hungry!) and cheerful knowledgeable servers. The atmosphere would be homey and comfortable; no dress codes and no pretenses! The next two years were spent developing the concept, experimenting with menu ideas in our own home kitchens, and dining in establishments up and down the eastern seaboard.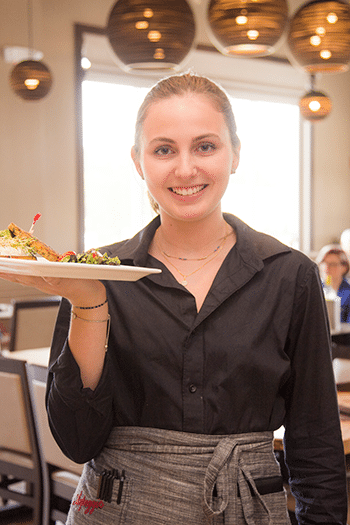 "I FEEL LIKE THIS IS MY HOME"
It was agreed that only the best quality and freshest ingredients would be served regardless of price and that most everything would be made to order. The cornerstone of our restaurant would be a large Wood Burning oven, which in the early 90s was a rarity, especially in the suburbs; in fact, ours would be one of the first in Montgomery County PA.
We wanted to offer something for everyone, so we decided to include pasta, fresh seafood, large salads and traditional entrees to accompany Wood Oven Pizza and Mediterranean specialties. While researching and dining at other restaurants we noticed that in many cases something was missing: a good finish! We decided that the end of a meal at Arpeggio should be as memorable as the meal itself, so home-made desserts and great coffee would round out our menu.
OUR HISTORY
Arpeggio opened in July, 1995 in Spring House after an extensive location search in Montgomery County, PA. The small space and the Spring House area were a perfect fit and we thrived there for 7 years. However in early 2002, an older gentleman came in on a Saturday night at 4:30. After garnering the last available table he sighed, "Pretty soon I will have to come here at breakfast time for dinner!" That was our sign.
Although the community had encouraged us to enlarge for years we had hesitated, but this was clearly the right time. It was obvious that our 12 table restaurant had grown beyond its limited size, so when the space next door became available we finally decided to take it. Not only would we would be able to function more comfortably in a larger space, but we were confident that our customers would also be much happier.
In May 2003, after an arduous year of planning and 5 months of major renovations, we reopened with a new state of the art kitchen and a transformed décor after closing the dining room for just two weeks. The kitchen now has a second wood burning oven in the back for the preparation of special entrees. Our present dining room features a two sided fireplace in the center, private wine lockers and an outdoor patio that is partially covered with a large gable.