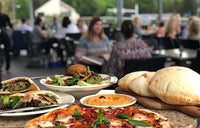 WAITLIST SIGN IN
Please use Yelp Waitlist to sign in remotely if you are a group of 1-6. This is a waitlist program not a reservation program. You can only sign in when we actually have a wait. The Waitlist link will give you an estimated seat time. Though we do our best to have you seated at the given time, there may still be a short wait. Please check in with the host when you arrive. Make sure to have your cellphone with you, as table ready texts will alert you when the table is ready. If you are not here or we cannot find you, the next party will be seated.
SIGN IN TO THE NO WAIT APP
LARGE GROUP RESERVATIONS
Large group reservations are not available for parties smaller than 7. Wedo not take reservations for parties over 12 people on Friday and Saturday after 4 pm. Reservations are available until the day before, and a deposit is required. You can call the same day; if available, a manager will reserve a table for you. We don't make reservations for tables outside, but we'll do our best to accommodate requests.  
Reserve Large Group Reservations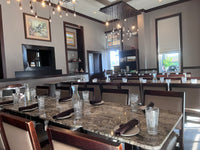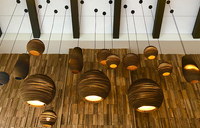 ARPEGGIO SEATING POLICIES
We do not seat incomplete parties, except large reservations. Our requested maximum dining time is 90 minutes for parties of 5 or less, and 2 hours for parties of 6 or more. (Please be respectful, especially when we have guests waiting for a table)
ORDER TAKE OUT, PICKUP & CURBSIDE
Log on to our takeout app to order your favorite Arpeggio dishes for curbside or take out!
Online Ordering Click Here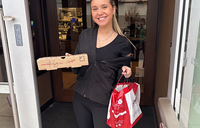 Testimonials
We came for dinner last night and it was packed! A beautiful evening had a nice crowd sitting outside and lots of parties inside. We sat at the pizza bar and so enjoyed watching the activity in the pizza oven! We ordered the Mediterranean hummus platter and both the hummus and Baba Ganush were homemade and just delicious. They brought out the pita that we saw being made in the oven and it was all puffed up. Great presentation! We also shared the Bronzino, but we had to take it home as we were both full from our appetizer. The service was excellent and the team friendly! I go there for lunch, but this was the first time for dinner. Highly recommend!

1/15/2020
Pros: where do I begin ,from the moment that my group of 8 ladies walked in we were greeted with two great hostess .we were seated immediately .the food was very delicious and the service was excellent and prompt .This place is BYOB so our waitress offered to keep our wine in a ice bucket on our table .We had bread putting and chocolate cake for desert which they were to die for .I will recommend this place if you are to enjoy a quiet evening outside on their patio in a summer night or to spend a warm and cozy seat by their fire place .Thats all for now Cons :None

11/15/2019
Arpeggio is a gem of a restaurant! The menu choices include so many delicious, healthy options; The owners and waitstaff are accommodating to satisfy any requests. I feel so fortunate to have such a warm, inviting dining experience in my neighborhood. Many of my friends and business colleagues join me regularly to enjoy a relaxing meal in a beautiful environment. I highly recommend Arpeggios!!

12/10/2019